Terry Cato interviews bestselling author Dr. Arianna Sholes-Douglas. Arianna Sholes-Douglas, MD, FACOG is the founder and visionary of Tula Wellness, PLLC. She has practiced medicine for over 20 years and is board certified in Obstetrics and Gynecology and Maternal-Fetal Medicine. As a graduate of the University of Arizona's Integrative Medicine Fellowship, founded by Dr. Andrew Weil. Dr. Arianna combines her extensive knowledge in women's health with the field of integrative medicine. Dr. Arianna specializes in integrative women's health, a subspecialty of gynecology that incorporates evidenced-based alternative medical therapies to promote healing, recognizes that several factors (mind, body, and spirit) contribute to wellness, and honors a patient-centered approach and healing partnerships between patient and physician.
Terry Cato interviews award winning author Tina Jones Williams.
Williams was born and raised in Berkeley, California. There were six children in her family, three boys and three girls – a perfectly matched set. She attended a neighborhood elementary school where she learned that having fun and getting along with others was the true reason for going to school. She was a member of the first desegregated class at Garfield Junior High and went on to Berkeley High School, the only public high school in town. Tina loved being a teen in Berkeley in the late 60s – her group of friends had free reign to walk throughout the city and discover ways to navigate the twists and turns of life. Her first summer job at University of California at Berkeley was in a building just off of Sproul Plaza where, on any given day, she could look outside her window and see students protesting social injustice and police officers attempting to dissuade them.
Tina is a proud and active member of Alpha Kappa Alpha Sorority, Inc., the oldest African American Sorority with an International membership of 260,000 college-educated women committed to a lifetime of service to ALL mankind. She is also a member of the National League of American Pen Women, is a Berkeley Historical Society Docent, she is an active contributor to the South Berkeley Legacy Project, Career Coach, and a Literacy Coach.
Tina is hopeful that you enjoy reading her books as much as she enjoys writing them.

Books by the author:
Some Things I Want You to Know
Sara's Song, Dance or Get Out, Perfect Pitch, All's Well That Ends: The Julia Street Series
For Their Convenience, On Closer Inspection: Bridge to Freedom Books 1&2 Currently working on A Delicate Balance Bridge to Freedom Book 3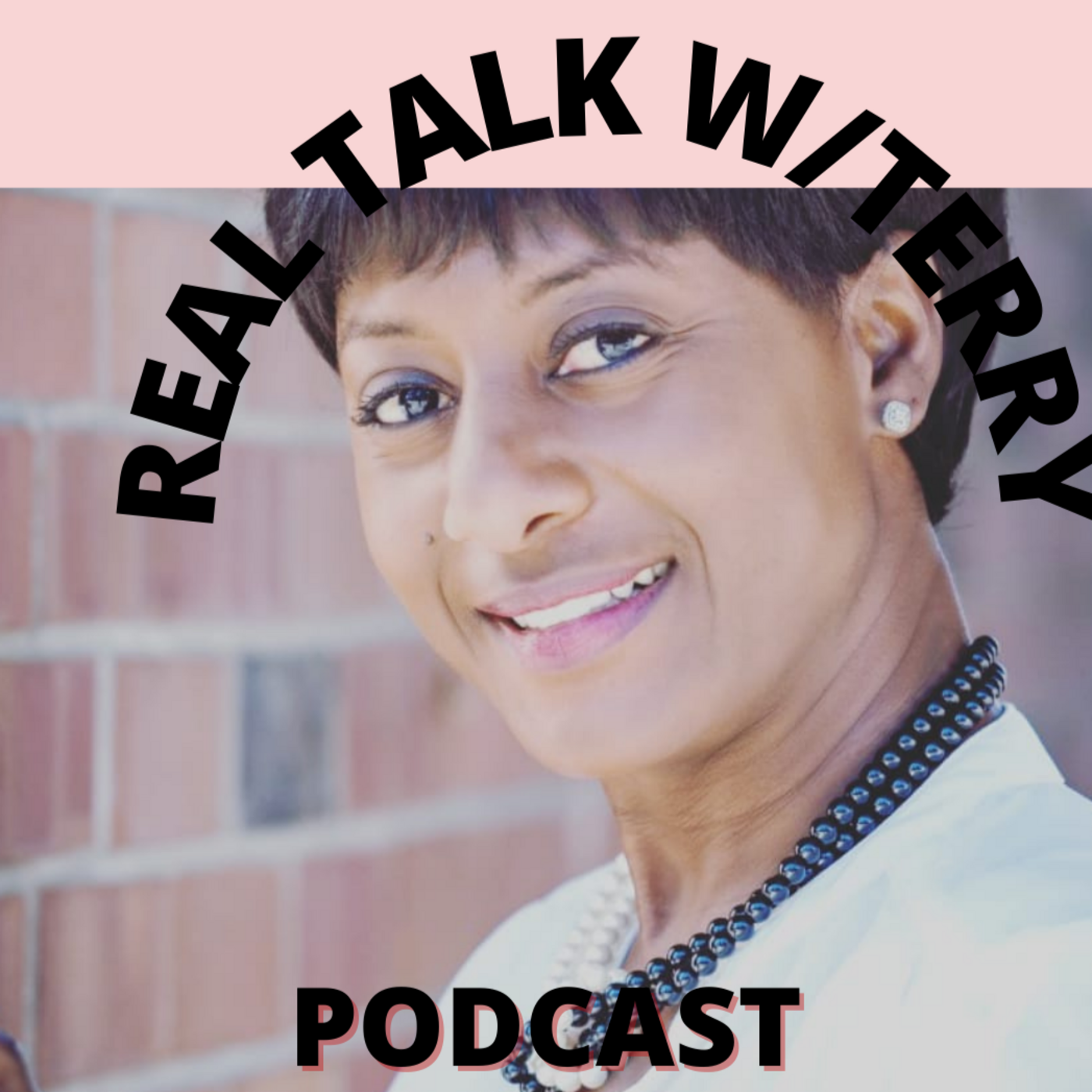 Episode 29: Real Talk w/Terry: After Hours_E8 Men Who Will Not Commit
–
Real Talk w/Terry
Host Terry Cato welcomes back resident sexpert Pretty Sexucated. They discuss some men's inability to commit in a relationship and what happens when you stop allowing the non-commitment type to take up space in your life. #NoLongerABridesmaid
Host, Terry Cato introduces the quarantine series, "It Is Written" a series of author interviews. Her first guest, Dr. Gerri Forte is the author of "Of Prayers and Beatings".
The story of Cleodine Georgette Duarté is told through firsthand narrative style as she discovers pertinent historical information that led to her understanding and forgiveness of the parent whose emotionally imbalanced actions terrorized her childhood while at the same time developed the foundation for the person that she has become.
The story begins in rural Mississippi during the 1800's when the first members of her father's family were imported from the Bahamas to a plantation in Newton Mississipi and transgresses through the decades to life in the current day Silicon Valley. An understanding of mental illness coupled with the impact of systemic racism help Cleodine to understand, forgive and love.
Catch the first episode:
Book Bundles available! Bundle includes: a signed copy of "No Longer a Bridesmaid!" and a T-shirt.
Webstore: https://www.terrycato.com/online-store
Email: info@terrycato.com
Season Greetings!! We are well into the holiday season and this is the time of  year when many people get depressed. Especially those who have lost loved ones or those who are single. I know because I've been there. For years, I was single and desired to be married and have children of my own; then in June 2000 my mom passed away. So, I have a soft spot for individuals grieving the loss of a loved one during the holidays and those who are single. My advice to those who are struggling with loss or loneliness this year is to surround yourself with family, and keep the true meaning of Christmas in perspective. If you cannot be with your family, surround yourself with individuals who are similarly situated and encourage each other. It truly is the season of giving and sharing, I encourage you to volunteer at a shelter or some other community based non-profit. Sometimes encountering others and learning of their struggle tends to help us realize that we really are  not as bad off as we think.
During this season of giving, myself and 13 other Indie Authors have teamed up to host a holiday book give-a-way. Our books vary across the many genres. Feel free to enter as many of the raffles as you like. The raffle will continue until December 22, 2013. Good Luck and HAPPY HOLIDAYS!!!! -Terry Cato
.
Book Name: "NO LONGER A BRIDESMAID!"
Author Name: TERRY CATO
Genre: Memoir #pages: 166
For years, Terry Cato was always the bridesmaid, but never the bride. In this poignant memoir, this first-time author tells the story of her seven years of preparation, finally becoming a Lady-in-Waiting (engaged) and then a bride. During her years of being single, Terry observed seven personality types–her own included–that can get in the way of progress toward the altar. In this book, learn: The seven types of single women and how they could be harming their chances of getting married; why dating is just practicing for divorce; how to deal with and heal old emotional wounds; the seven steps the author used to successfully prepare for her husband; how to live a happy, celibate life as you prepare for your husband and more.
Ebook $2.99, Paperback $14.95
Book Name: DANGLED CARAT
Author Name: HILARY GROSSMAN
Genre: Memoir / Chick-Lit #pages: 281
Hilary had gotten used to dating the commitment-phobic Marc. They had a great relationship—why rush into things? But after four years together, their friends decided to take matters into their own hands, pushing Marc to propose. Unfortunately, Marc still wasn't ready—and their friends' meddling in the form of a faux engagement party led to a disastrous New Year's Eve that brought their relationship to a turning point.
In this relatable, playful memoir, Hilary reminisces about her life before Marc—from the awkward teenage years to her early relationships and, finally, to the day she met Marc and realized that she really wanted to see him again. Through the ease of their early time together up until that fateful New Year's Eve, Hilary shares the details and considers how Marc's inability to commit led her to find an inner strength and confidence she didn't know she possessed.
For anyone who has ever dated a commitment-phobe, who has found their patience wearing thin, or who has sat around wondering if he is ever going to pop the question while trying to remain the picture of patience and grace, Hilary's humorous and honest story will hit home.
Available on Amazon, Barnes & Noble, Smashwords, Kobo & Apple Ebook $3.99, paperback $9.43
Book Name: WHITE LIES
Author Name: EMILY HARPER
Chicklit/Contemporary Romance – #pages 241
Imagine standing in line at Harvey Nichols waiting to buy the most gorgeous silk Gucci
dress. The only minor problem? You can't afford it, it's a size smaller than you are, and you have absolutely no place to wear it.
Meet Natalie Flemming: a twenty-something woman working in London for a fabulous shoe-designing firm, but the only thing they let her touch is the company's tax forms. She has decided to give fate a vacation and takes the task of finding the man of her dreams (or Johnny Depp if he would just return her calls…) into her own hands.
She craves adventure, spontaneity, passion- or will just settle for a decent date.
.
.
Book Name: QUAKE
Author Name: LISA ARRINGTON
Genre: Science Fiction #pages 286
Ali and Caden thought they were your average teenagers trying to navigate high school pressures and college decisions.
During a camping trip all of that changes when an earthquake ushers in an Alien invasion on their small desert hometown.
Lives are lost and friendships are tested as Ali and Caden, along with their best friends, begin running for their lives. However, nothing can prepare them for the secrets they discover when they begin learning more about themselves then they ever thought possible.
Available Amazon Paperback: $10.99 Ebook $3.99
Book Name: MARIONETTE
Author Name: T.B. MARKINSON
Genre: LGBT Young Adult # pages 290
Paige Alexander is seventeen and has her whole life in front of her. One day her girlfriend comes home to discover that Paige has slit her wrists. Paige isn't insane, but she acts like she is. Why?
After the incident, Paige agrees to go to therapy to appease her girlfriend, Jess. However, Paige doesn't believe that therapy will help her. She believes she's beyond help. Paige doesn't want to find herself and she doesn't want to relive her painful past in order to come to terms with it. What Paige wants is control over her life, which she hasn't had since her birth.
During her childhood, Paige is blamed for a family tragedy, when in fact, her twin sister, Abbie was responsible. Abbie doesn't come forward and Paige becomes the pariah of the family.
To add to Paige's woes, while attending a college in a small town in Colorado, the residents are in the midst of debating whether or not gays and lesbians should have equal rights. Tension is high and there's a threat of violence. She isn't out of the closet and pretends to be straight at school since she fears what will happen if her parents find out she's a lesbian. Will she end up dead like her best friend, Alex?
Available Amazon ebook: $3.99
Book Name: SNOWFLAKES & BEESWAX
Author Name: JESS SCHIRA
Genre: Historical romance #pages 96
Madelyn Wickham is a shy farmer's daughter who wants to be left alone to tend to her bees and make candles so elegant they captured Queen Charlotte's attention. For years, she and her father had a good system. Madelyn made the candles the queen requested for the Christmas celebration she hosted at the Queen's Lodge, and Madelyn's father handled the men the queen sent to fetch the merchandise.
Her father's death changes everything. The idea of dealing with the queen's men terrifies her, people have always made her feel uncomfortable, but she has no choice. It takes all of her courage, but she manages to walk up to them and start a conversation. Moments later they find the candles she's prepared for the Queen's celebration have been destroyed.
Oliver Hamilton has always had a knack for seeing the bright side of every situation. He understands the seriousness of the situation, but doesn't see any reason for despair. He sees the situation as a chance to spend time with a woman who's always intrigued him, but who he's only ever seen from a distance. He has no idea he's stepping into the middle of a tense sibling rivalry, and a bitter fight custody fight over the small farm, a battle Madelyn can't handle by herself.
Available
Amazon
ebook $0.99, paperback $4.50
Book Name: THE GUARDIAN
Author Name: SARA MACK
Genre: Paranormal Romance #pages 326
True love never dies. Emma Donohue begs to differ.
When a late night accident claims the love of her life, Emma secludes herself in memories of James. In his sandy brown hair and clear blue eyes. In their innocent first kiss and declarations of love. In their plans for a life together after college. But happy dreams can't rid her of the guilt she carries. She can't erase her actions the night he died. She can't erase her reaction at his funeral. And she can't erase the hollow void that fills her chest and consumes her heart.
The first time Emma hears James' voice, she's astounded. It sounds as if he's standing right beside her, and she fears her shattered heart is trying to drive her mad. But, as she continues to hear the voice, she finds comfort in it. With the help of her best friend Shel and handsome newcomer Dane, she tries to move forward and start living again.
Until the voice in her head turns out to be more. So much more.
You know what they say. True love never dies.
Available Amazon, Barnes & Noble Ebook $0.99, paperback $9.99
Book Name: A GOOD MAN
Author Name: VANESSA MORGAN
Genre: horror, screenplay #pages 92
Louis Caron is a good man: he feeds the homeless, takes
care of animals, and is concerned with the ecological future of the
planet. But his altruism has a sinister edge – he's a vampire – and
local detective Taglioni is getting increasingly suspicious. Louis'
attempts to escape the police will take him on a journey into his own
private hell where he is not only forced to confront his worst fears,
but also to destroy the lives of those he cares about most.
.
.
.
Book Name: UNBREAKABLE
Author Name: JOANN LEE
Genre: lesbian romance, #pages 251
Sequel to Broken Star
After finding happiness, Lynn Feoras was convinced life with Alexis and Calista would be perfect. But when she and Alexis begin the tedious journey of expanding their family, she soon comes to learn that money doesn't buy everything.
In the midst of doctor's visits, a move to New York, and a whirlwind tour, life remains chaotic for the Feoras family. New friends emerge, old ones return, and an unexpected reappearance of someone from Lynn's past leaves her questioning her ability to be a parent.
Will Lynn and Alexis be able to overcome the obstacles placed before them? Will their relationship crumble under the strain or will they come out on top, stronger than before?
Title: WILDCAT IN MOSCOW
Author Name: STORM CHASE
Genre: contemporary romance, #pages 253
When Chelsea comes back from Alaska she discovers her stepfather has embezzled her multimillion pound inheritance.Not only is Chelsea broke but the police think she has colluded with her stepfather in a financial swindle. Worse, loan shark Carlos Santiago is after her too, determined to make her pay up for her stepfather's debts.Then Vladimir Voyeykov, a Russian business tycoon rumoured to be a member of the Red Mafia, enters the mix. He whisks Chelsea to Moscow where she is catapulted into a world filled with intrigue, uncertainty – and passion.
.
.
.
.
.
.
Title: LOST WEEKEND AN EROTIC ROMANCE IN WALES
Author Name: STORM CHASE
Genre: cromance erotica, #pages 97
"What's going on?" Micah asked gently. "You say you're an escort and you're dressed like a wet dream come true. But you are embarrassed when I look at you. And when I offer to hire you, you turn me down flat. Furthermore, you were so frightened of me earlier that you hit me over the head with a frozen leg of lamb and yet now you are here, all curled up and cosy – in my bed I might add – when you could be halfway back to London or the nearest police station."
"I, I," Bryony stuttered. "It's complicated."
"So I see," Micah said.When Micah accidentally kills a major drug dealer, and Bryony is the only witness, Micah decides the only solution is to keep an eye on her while he makes plans to leave the country. However, when Micah and Bryony start talking to each other, things don't work out quite as either of them expect.Lost Weekend is a love story with a hint of murder and a heroine who decides she likes it best when she's on top.
.
Book Name: THE UNICORN'S DAUGHTER
Author Name: NORMA BEISHIR
Genre:Thriller #pages 353
Codename: Unicorn. Jaime Lynde adored her father. She was devastated when she was told he was dead–but she refused to believe he was a traitor to his country. Her determination to prove his innocence sent her on a journey from Washington DC to Paris to Libya and put her on a collision course with a double agent in Tripoli at the time of the 1986 air strike…
.
.
.
.
.
Book Name: POHOI AND COMANCHE SPIRIT POWER
Author Name: J. L. CHALFANT
Genre: Native American Historical with elements of Native American mysticism, romance and suspense. #pages 307
A battle for power is about to begin.
It is 1860, early spring on the high plains of Texas. Pohoi, a young Comanche woman, learns how the winds of spring open doorways into the world of spirits. She ignores the concerns of a certain young warrior she loves and breaks tradition, all to gain Comanche Spirit Power when friendly traders, assisted by her beloved aunt, attack and murder her father and kidnap her white mother.
As predicted by her medicine woman aunt, the Great Spirit Storms arrive.
No longer can Pohoi wait to right the recent wrongs committed against her family, especially since she can no longer marry Yellow Bear. She transforms into a ghost warrior and charges toward the plains, home to the dreaded Texans and soldiers, and where she believes the kidnappers have taken her mother. But not until Yellow Bear tracks her location, bringing with him her traitorous aunt's unwanted child, does Pohoi realize her real battle is where she least expected. Soon she learns a shocking truth that quickly blurs the line between friend and foe, revealing a route back to love, and to life if she can relinquish her need for power.
Even if Pohoi finds her mother, how can she set her father's spirit free and end the Great Spirit Storms if Power turns against her? And, if she gains Comanche Spirit Power, will Yellow Bear still love her?
Available: Amazon, Barnes & Noble, Apple Ebook, Apple print Price paperback $13-$15, Ebook $3.95 – $5.95
Book Name: CLOSURE
Author Name: ANGELA FORD
Genre: romantic suspense #pages 176
Closure…a gripping FBI search grounded by an as-yet-unrealized love story…Jess, a young FBI profiler is compelled to save the fourth victim from a sexual predator, only to put her life into the hands of a serial killer.
Exciting new romantic suspense from debut author, Angela Ford. An elite FBI task force tracks online predators while they hunt their prey. A series of murders in Presario Heights has forced Special Agent Jessica Resario to follow her gut instinct to save the next victim. Supervisory Special Agent Tom Erickson removes her from the case. The only place to escape the danger is her family beach home. She hadn't been there since her parents were murdered. The level of intensity climbs higher with her discovery of postcards marked "I Crave You". Old ghosts, secrets, imminent threats and an inevitable attraction to Tom send her on an emotional roller coaster. If that wasn't enough, she opens the door to a man she thought was dead. Tom is stabbed and his case files go missing…high emotions put Jess at the killer's mercy.
Available
Amazon
Ebook Price $2.94, paperback $5.39
.
.
a Rafflecopter giveaway a Rafflecopter giveaway a Rafflecopter giveaway a Rafflecopter giveaway
a Rafflecopter giveaway a Rafflecopter giveaway
a Rafflecopter giveaway a Rafflecopter giveaway
a Rafflecopter giveaway a Rafflecopter giveaway
a Rafflecopter giveaway a Rafflecopter giveaway
a Rafflecopter giveaway
a Rafflecopter giveaway
"No Longer a Bridesmaid!"
A Memoir
By Terry Cato
 Tell us about your current release.
"No Longer a Bridesmaid!" is a memoir that chronicles the seven years that I was single, celibate and believing God for a husband. During those seven years, I observed seven personality types–my own included–that can get in the way of progress toward the altar. I discuss this in the first part of the book and dig more into my personal process in part two of the book.
How did you begin your writing career?
For as long as I can remember, I've always had a love of reading and writing and was the resident proof-reader for my family and friends. My earliest memory of writing was in kindergarten when I would go through my coloring books and write sentences describing what I saw on the pages before I started coloring.
Who is your book published through?
I self-published this book through my publishing company, Mahogany Inspiration.
Where can we find your book?
Amazon.com, BN.com, BAM.com, and Christianbook.com; You can also order the title through Barnes & Noble and Books-a-million retail stores for pick-up.
Where did you get the inspiration for this book?
I was inspired to share my testimony of preparation, while attending a marriage enrichment class at church.
How long did it take you to write your current novel?
From start to finish it took about 2 ½ years; actual writing time was about a year.
What else are you working on?
I am currently working on a follow-up book that will focus on getting through the various seasons of marriage.
Readers love following their favorite authors, which social networking sites can fans find you? 
Twitter: https://twitter.com/terry411cato
Instagram: http://instagram.com/terry411cato
Blog: www.Relationships-411.com
Facebook: https://www.facebook.com/Relationships411
Who reads the drafts of your novels?
I have a select group of family and close friends that I get to read the initial draft of my manuscript.
What is your favorite snack while writing?
My favorite snack while I'm writing is sunflower seeds.
Please Participate in our Author Blog Hop by visiting the sites below and in doing so, you will be supporting other Indie Authors ~ Thank you!  -Terry Cato
Janine Chalfant  www.jlchalfant.com/blog/
Paulette Harper Johnson  http://empowertoprosper.wordpress.com/
Hilary Grossman  http://www.feelingbeachie.com/?p=3975
T.B. Markinson  http://tbmarkinson.wordpress.com/
Andie Lea   http://andieleabooks.wordpress.com/
Luca Rossi http://www.lucarossi369.com/
Sara Butka http://smackwrites.blogspot.com/
Walt Williams http://wbjwilliams.livejournal.com/.
Nina Mason http://ninamasonromance.blogspot.com.
Katie McKnight  http://www.writergirlkatie.wordpress.com/